Machinery
↑
Sfoggia Agricultural Division (Precision Seeders & Transplanters)

Sfoggia Agriculture Division was
established in 1956 and continues to be
leader in production of precision
seeders and transplanting machines.
Products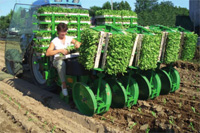 Model: California
CALIFORNIA is suitable to plants with cone, cubic-shaped turfs or with cylindrical turfs (seedlings). Types of plants: lettuce, broccoli, tomato, cabbage and others.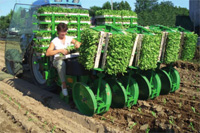 Model: California
CALIFORNIA is suitable to plants with cone, cubic-shaped turfs or with cylindrical turfs (seedlings). Types of plants: lettuce, broccoli, tomato, cabbage and others.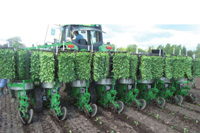 Model: Florida
FLORIDA is suitable to the plants with cone, cubic-shaped turfs and with cylindrical turfs (seedlings). FLORIDA permits a perfect transplanting even of high and/or difficult plant as tobacco, but is suitable also for lettuce, salad, tomato, cabbage etc.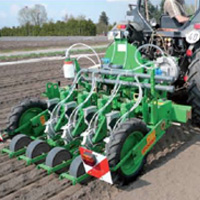 Model: Calibra
With an easy and quick exchange of the discs and the shoes Calibra gives you the possibility to seed on one, two or even three rows for each element. The double selection system and the big dimension of the disc guarantee a high drill precision. Changing the distance between elements does not need generator to disassemble the whole drill but thanks to our main frame and the skids this operation will be easier as never been before. Capacity and pressure are constant due to two fans which work independently. Available: fixed frame, telescopic and hydraulic foldable frame too.Calibra is suited to small seeds like carrots, onions, beetroot, lettuce, baby leaf salad mix.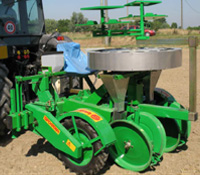 Model: F/C-10-12, F-18
F/C 10 / F/C 12: 1 operator - 2 Rows. Simple and fast adjustment of the row distance 40 to 70 and 30 to 60 cm, 7000 plants/h per planting unit.
F-18/ C-18: 1 operator - 2 Rows. Simple and fast adjustment of the row distance 60 - 120 cm, 7000 plants/h per planting unit.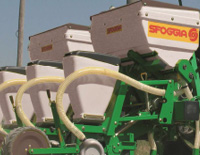 Model: Gamma Plus
Gamma Plus is a precision pneumatic planter that thank to its characteristics has a long tradition in the planters range, though it remained a symbol of the research and the development of Sfoggia.. Gamma Plus has a sowing method by shoe - seed drops only 4 cm - that offers a great reliability and simplicity of use ensuring high precision sowing of speeds of up to 10 km/h. Gamma Plus is suitable for medium to large seeds, beetroot, melon, pumpkin, corn and maize.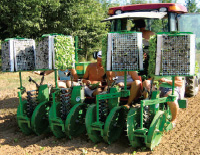 Model: Itala
Half automatic transplanter with pliers for plants of vegetables, flowers, nursery and tobacco with bare roots or seedling plants.
Model: Mulch Layer
The Mulching Machine is laying down plastic and nylon roller of different widths. It can be equipped with or without front roller and with rear rubber wheels. All parts of the machine are adjustable according to the size of the roller 1,40 m or 1,90 m wide models are available. On all kind of soils, flat or max 30 cm high. Suitable to all kind of bio plastic and paper.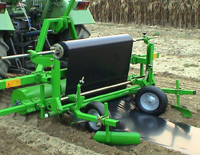 Model: Plantec One Mulch Layer
Half automatic transplanter with distributing piercing cups for young plants with conical and pyramidal seedlings up 7 cm and square turfs up to 6 x 6 cm. Different sizes of piercing cups are available.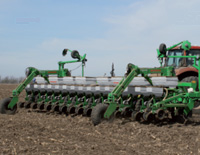 Model: Sigma 5
Sigma 5 is the pneumatic planter for minimum tillage and no till situations even in presence of crop residue. Sigma 5 is the only machine on the market with two different transmissions available on the element. Universal joint or double chain. This machine is suited to planting maize, cotton, sorghum, sunflower etc.
Model: Thema
Inter-Row Cultivator is strong, light and reliable. Suitable to different crops, sandy to heavy soil. The machine is fully adjustable and also comes with fertilizer boxes for side dressing. Optional available in fix manual fold or hydraulic folding.
Omarv ( Mulcher Mowers)

Omarv was established in 1963 and today continues
to manufacturer mulching mowers such as forage harvester
mower with collecting hopper and wide
mulchers for large or small acreages.
Products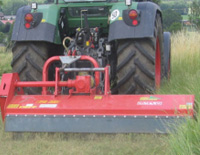 Model: Cuneo
Cuneo model is the heaviest in the low body range designed for vineyard and orchard working. Cuneo comes in four models - front or rear mount, fixed or hydraulic side shift. Also available is the folding unit Cuneo P for wide machines complete with 100 HP gearbox.
Model: Milano
Is a high body mulch mower with Y blades for small horsepower tractor. Models start from 1.60 to 2.5 metres complete with 100 HP gearbox.
160 cm - 250 cm = 100 HP
250 cm - 360 cm = 160 HP
400 cm - 600 cm = 390 HP
850 cm = 390 HP
Emy Elenfer (Power Harrows)
Emy Elenfer started out in business in 1974 and represents today a point of reference in the field of agriculture machines. Since that date the company has followed a continuing program of investment, expansion and modernization becoming a well known company in the world market with a wide range of products to suit different soil and culture. State of art technology in design and manufacture of all components, the quality procedures compliant with EC Machinery Directive requirements are adopted at all stages.
Products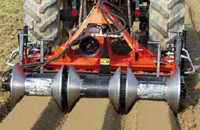 Model: Power Harrow CV, CA & CP
Ideal for small and medium size farms, this power harrow offers several advantages thanks to its compact and efficient construction: optimum working depth, reduced soil compacting due to the use of medium power tractors. Available also in "vineyard" version with special side protections, roller adjustment through a single central ram and dedicated roller to safeguard the roots.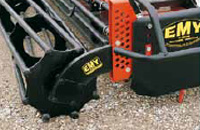 Model: Power Harrow Crono, SCA & SCP
Folding and fixed model recommended for tractors from 100 to 390 HP is equipped with rear roller central drive shaft with torque limiter.
Aldo Annovi (Reverse Ploughs & Hilling Rig)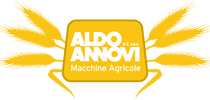 Aldo Annovi manufacturer of Reversing Mould Board Ploughs.
Products
Model: Mould Board Plough RF
RF Reversible Mould Board Plough comes with various adjustments between boards.
Model: Hilling Rig
For vegetable and large row cropping farms built to various sizes.
Cosmo (Super Spreaders)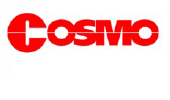 Cosmo is specialized in manufacturing fertilizer spreaders. The company was established in 1987 as a small factory concentrating only on fertilizer spreaders.
Products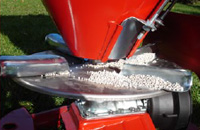 Model: P 3PL
500 kg unit cone shape hopper equip with four fins spreading disk for granular or crystalline fertilizer.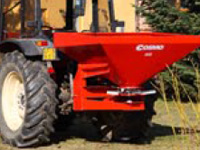 Model: RXX Twin Spinner
Square hopper professional series with two disk equipped with two fins. The spreader is equipped with low pace agitator to avoid heating up or breaking of the fertilizer during the flow to the exit point. The model is of stainless steel and is produced with high resistance long life parts.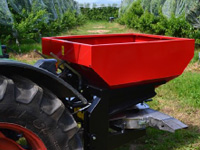 Model: RE – F Twin Spinner Model
Square hopper model with two disk equipped with three fins to get a uniform spreading. Suitable for professional users, specific for narrow vineyards and orchards thanks to the 1.4 metre wide hopper.
Massano (Rotary Hoes & Multi Disk)

Massano are manufacturers of rotary hoe reverse till ripper and speed disk also known as multi disc.
Products